A message from the headteacher…
I am absolutely delighted to welcome you to our school website.
We are very proud of our school and I am extremely privileged to be the Head teacher.  We are a small but well-resourced school, with a team of dedicated and hardworking staff providing a broad and balanced curriculum with exciting learning journeys and opportunities that build on student's interest and stimulate and deepen their understanding. We are passionate about ensuring that our students achieve their potential, whatever their starting point.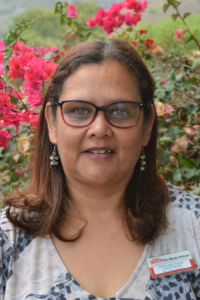 We are a welcoming and inclusive school and aim to prepare our students both academically and socially, celebrating their uniqueness and embracing diversity so that when they leave us they have a lifelong love of learning and are prepared for life in the wider world.
Our school motto is 'Learning together, success forever'. As a school community we believe that children thrive when the entire school community – students, parents, staff, governors and the local community come together. We strongly value the relationship we have with our parents and appreciate and value the support our parents give us and the role they play in enriching our student's experiences and supporting their child's education. Parents are always most welcome into school to help or discuss their child's progress or any matters of concern.
Please contact the school if you require any further information or would like to visit the school.
Tania Maggott
Head teacher
Latest News!

Hello from Year 2 class and Mrs Angela Yon (ICT teacher).
This term we are learning about using the Internet in our ICT lessons.
Last week and this week we learnt about Blogging.
We took some photos of places around our school and one of a model.  We drafted information to go with the pictures.
Today we learnt about adding a blog to our schools website.
We created a blog with photos taken by ourselves and have also added our information about them.
Enjoy our Blog, from Year 2 Class and Mrs Yon.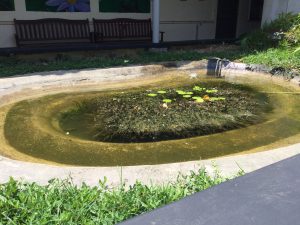 Picture taken by Tanzi.
This is a picture of our fish pond in our school.  There are a lot of little Gobbies and some small orange fish in the pond.  There are lots of green lily pads in the pond as well.
Do you know where our pond is situated in our school?
By Tanzi.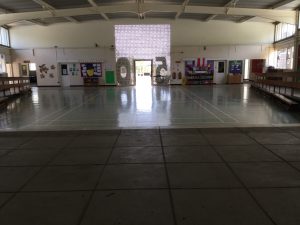 Picture taken by Shae-Lyn.
This is a picture of our huge hall in our school.  Sometimes we have PE in our hall and when it is wet outside we play games in there too.  We also have assemblies in our hall.   What do you think about our hall?
By Shae-Lyn.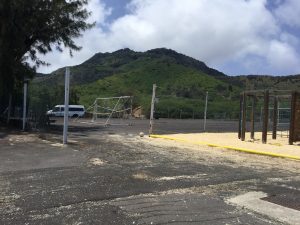 Picture taken by William.
This is a picture of Green Mountain, it is situated near our school.  There are lots of trees, flowers, plants and green grass up on the mountain.  It is very beautiful up there and lots of space where you can play.  Have you been up to green mountain?
By William.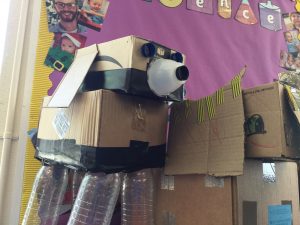 Picture taken by Penny.
Here is a picture of my model I made at home.  it is of a dog and it's name is Fluffy.  I made it out of cardboard and empty plastic bottles.  What do you think of my model?
By Penny.
Read our latest newsletter…